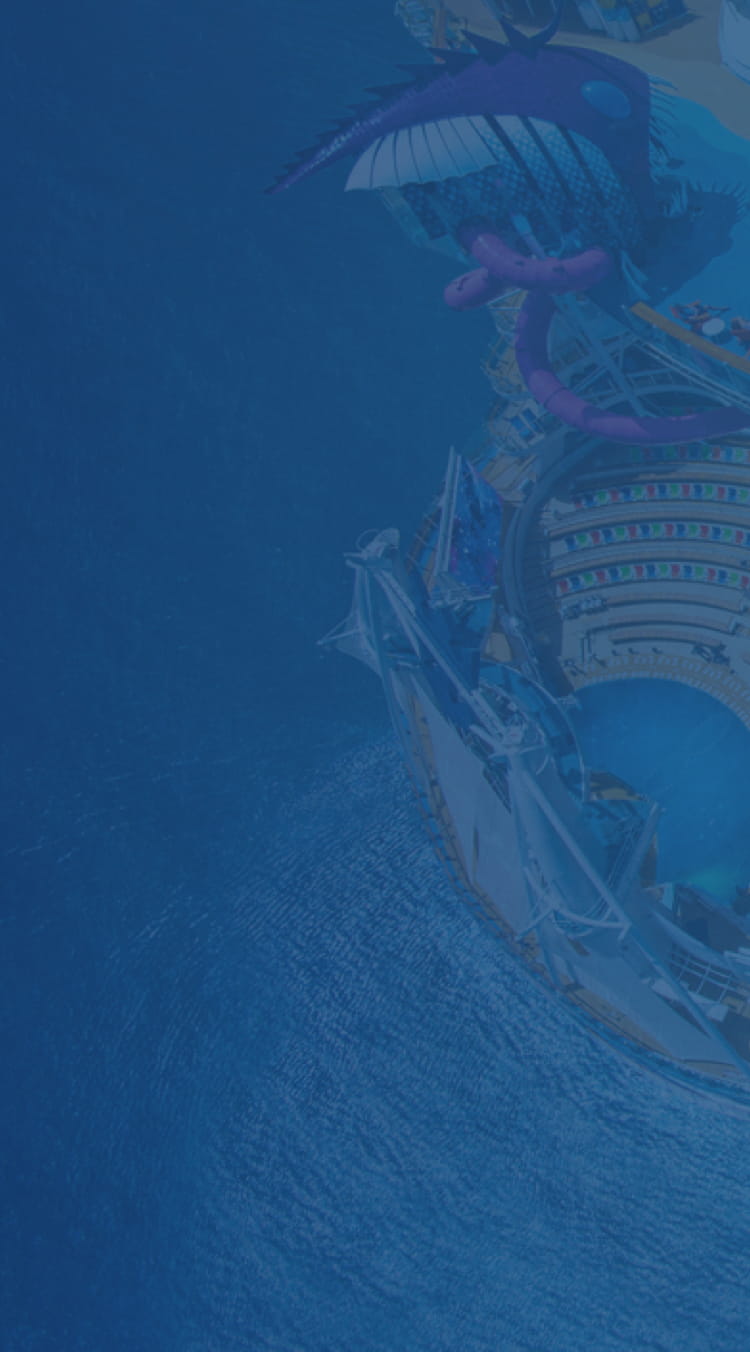 Helping users
cruise through
booking
Responsive e-Commerce Web app
Introduction
Booking a cruise
shouldn't feel like work
The Problem
Cruising is growing fast. But to new cruisers, the options - 2600 rooms, a dozen decks, shows, dining - are overwhelming. It's no wonder users skip the aging websites and try calling instead. How can we use the web to not just communicate, but curate a dream vacation?
The Solution
We partnered with Royal Caribbean's digital team to create an immersive, tailored booking experience that responds to users from their desk to their phones. It's unlike anything the cruise industry has seen before - but it lives up to what users have come to expect for modern travel.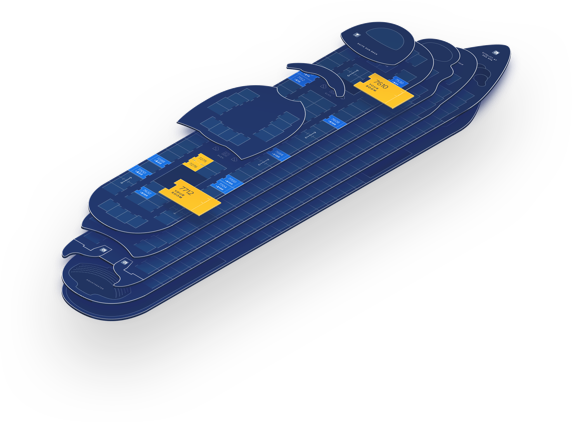 Strategy
A portrait of a landscape
"Less is more" could not be more true for an individual cruiser. There are thousands of rooms but only a handful are right for each user.
Our focus was on how to get users thinking of the benefits and outcomes of their perfect cruise, and work backwards into the details (and ultimately accommodations) that would get them there. Because it's easy to champion curation, but it's a lot harder to truly get there.
Related Principle
UX Guide Link
Keep the user
in the know
Users are wary of hidden fees and runaway add-ons. We worked with Royal to create clear and simple messaging and pricing throughout the UI. Visuals are important, but text is crucial. The bottom line: less fine print, and more buying confidence.
Related Principle
UX Guide Link
Travelers innately understand going from one stop to another. We used this mental model of a journey and applied it to the booking process. Planning becomes so much simpler when a user can see the stops along the way, presented as a constant context.
And as each user gains more experience, their decisions are added to their journey, and our UI becomes more detailed, in perfect sync. Like a scrapbook, the end result can be very detailed and complex - but not to the user who created it. Users don't hate complexity, if the learning curve is just right.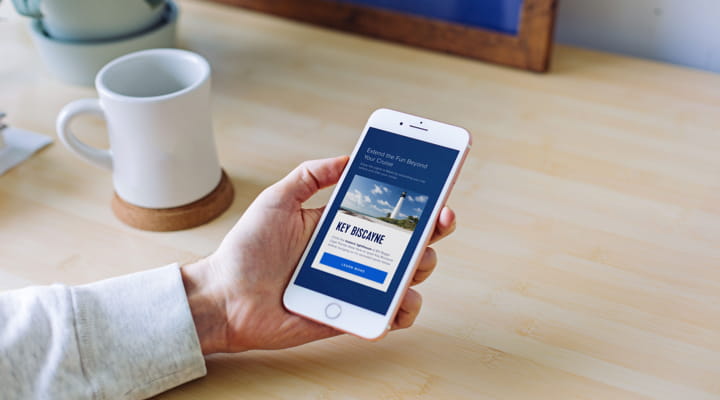 When you need to ask the user a dozen questions, you encounter a classic UX debate: a single long form, or a bunch of short pages. Conventional wisdom says to chunk the form into pages – but, when these new pages have plenty of real estate, stakeholders keep adding questions, and now you have a bunch of long pages.
We saw the need for a series of seamlessly transitioning moments, each focused around a small handful of questions – that stayed small. The end result feels lightweight, yet comprehensive, for users and Royal Caribbean alike.
Shopping for a cruise is exciting: lush photography and video inspires. Booking a cruise, though, is like hitting a brick wall: form after form on stark, white backgrounds. Our UX goal: leverage the illustrated, tangible, immersive feel of shopping, while preserving the clarity and details necessary for booking.
Related Principle
UX Guide Link
Don't underestimate a user. Power cruisers have been there, done that, and are back for more. We included advanced paths, alternate routes, and exits throughout the booking process - so that experienced users can rapidly dial in the exact cruise they want.
Color is one of the first patterns a user will pick up when looking at a new interface. Our challenge was to take Royal Caribbean's well-known brand colors and create distinct, consistent meaning.
Color carries a visual energy that can fatigue quickly. Here, we avoided the mistake many other UIs make, by restraining and isolating the precise right moments to capture the user's eye.
Related Principle
UX Guide Link
As we were defining the digital future of the Royal Caribbean experience, we knew we needed something different from the typical bloated agency approach.
Brave's thinking and impact were so far reaching, that it didn't just solve the immediate challenge at hand; it set us on a direction and a new standard for the next several years to come.
Arad Usha
Director of Digital Experience, Royal Caribbean International