Picture a
brand
new world
Live Event Streaming Platform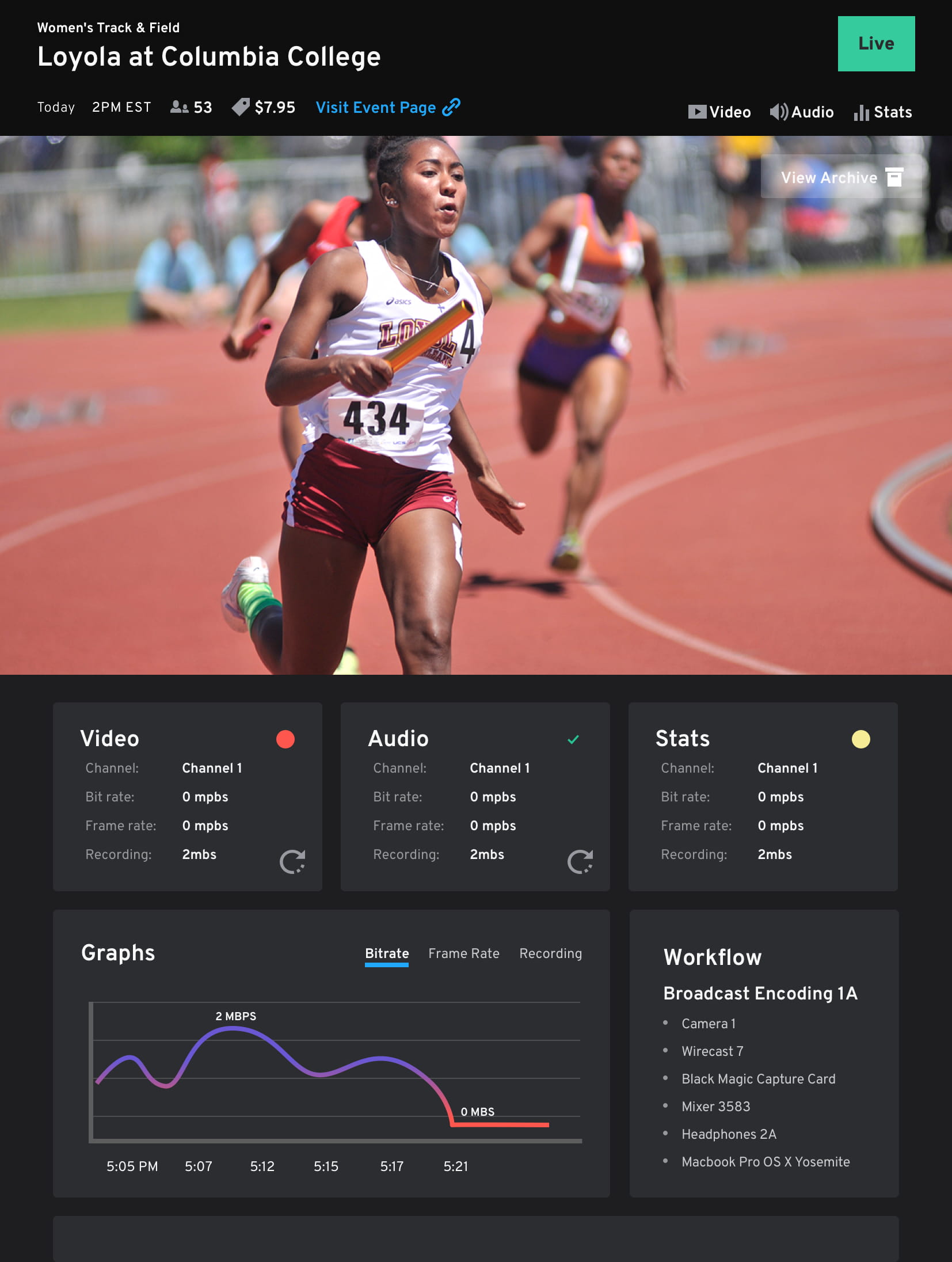 Introduction
Turn humans into a
force multiplier
The Problem
The UI of every online broadcasting platform – YouTube, Twitch, Facebook Live, etc. – is weaponized for discovery, not loyalty. The one-size-fits all approach introduces an ocean of noise competing for the user's attention.
The Solution
Curate the best UX patterns from online platforms viewers are already familiar with, and empower content creators by simplifying the broadcasting process. Together, sports teams across the country can invite viewership and participation that was previously exclusive to the giants of social media.
Strategy
Visualize the goal
We discovered a common mental model that users rely on whenever they think of an event. Leaning into this concept unifies the front-end portal that viewers see, the CMS that organizations use, and the backend support system that keeps everything running.
Related Principle
UX Guide Link
Giving mobile a
seat at the table
Thinking mobile-first is no longer the exclusive domain of start-ups and millennials. Dataset after dataset shows that users are reaching for their phones, even if they don't always understand how (or why). Embracing this perspective as a first-class citizen ensures that long-term potential of the platform.
How do you make a digital crowd feel like the best parts of being in a physical crowd?
Live streaming video creates an inclusive experience for everyone who can't be there. But it creates a thousand private box offices – a one-way relationship where the audience can only watch.
We had to strike the right balance between letting viewers feel like being part of something bigger and keeping interactions genuine. Too many other platforms fall victim to creating an anonymous wall of noise that becomes impossible to follow.
By recognizing that reactions are oriented around specific moments in time, and by blending a feature set that accounts for everything from time-delay viewing to charitable donations, the result is a UX that can allow any viewer to participate as much – or as little – as they want to.
Athletic programs, conferences, championships– there is a world of behind-the-scenes logistics that must go smoothly. Online streaming cannot pile on to of this workload. We researched real-world workflows to create a virtual stage that not only seamlessly extends brand, but provides deep insights - even to the first-time streamer.
Related Principle
UX Guide Link
The message from producers of live video was clear: the patchwork of ten different software programs, bulky equipment, and inconsistent connections can quickly overwhelm even the most seasoned pro. We found a way to bring previously scattered critical features into the platform. Our UI is flexible enough to handle creating a video clip highlight, managing a football scoreboard, and managing alumni pay-per-view passes in one unified experience.
What happens when things go wrong? We embedded with support techs to observe a typical college game day with thousands of simultaneous events and streams. So, we created an architecture that lets automated analysis tools detect and triage obvious problems, freeing the users to manage each event (and organization) with a personal touch.
Related Principle
UX Guide Link
Team assignments and scheduling is already a challenging prospect without adding the stress of live deadlines into the mix. We devised a focused, card-based triage UI that allows multiple team members to organically prioritize and distribute technical issues. No toes are stepped on, and no one misses a beat.
Related Principle
UX Guide Link
Shortly after completion of its UX redesign, Stretch was acquired by Battery Ventures. The product is currently being integrated into a larger system, with the continued goal of providing the best streaming experience in the world.
Related Principle
UX Guide Link
One word: 'Wow.' I can't say enough about Brave. I can't think of many other vendors who really deliver on true partnership the way Brave does. They are world class at what they do, and they know it. Better yet, they deliver on it.
Ryan Ermeling
Founding President & CEO, Stretch Live